About BRAPA
Our club was organized in February 2002, in Gaffney, South Carolina, with the goal of having a truly unique event. At our first event we plowed 10 acres of ground and had 19 tractors in the show plus a variety of equipment. The following year we hosted two plow days and added the kids pedal tractor pull, slow race, wagon backing contest, barrel roll, and the ugly tractor contest.
In 2004, the show was hosted for the last time at the original show site on State Line Road. That year our show tripled in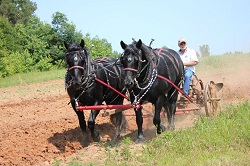 equipment, drew some 200 spectators, and featured the addition of horses. In 2005, we moved to the Overbrook Drive location and began hosting only one event per year. Our attendance increased to over 1,000 spectators that year with horse plowing being the main feature and less plowing done with tractors. In 2010, the club moved to the present location on Green Acres Road.
The show has seen less and less plowing over the years, but we have increased the number of other activities that everyone can enjoy. At the 2012 show, we held the first lawn mower pull at the show site, and added a second day to the event. Also in 2012, we added a second lawn mower pull in November, preceded by an antique tractor ride through the country that morning. In 2013 we added the antique tractor pull and repeated the fall event with both garden tractor and antique tractor pulls and in 2014 we added the "New Talent Night" and a 22 mile tractor ride.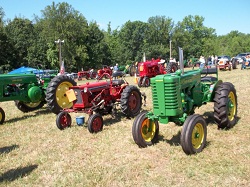 Our mission has always been to entertain, educate, and provide a low-cost and safe family event for all to enjoy. For 2016, we will bring back all of the previous events and more. We are always on the lookout for crafts and farm-related vendors, so contact us for more information and for discounts at area hotels and other local establishments. Just mark your calendars for June 3 and 4, 2016 so that you won't forget to join us.
FREE FOR EVERYONE!